-34% Sale!
Flower Crazy™ Complete DIY Flower Design Kit
Special Offer – Flower Crazy™ Cylinder and Cube Regularly $58.99 – Buy both for just $39.98 ($19.99 each.)
Each Flower Crazy™ kit contains 1 Flower Crazy™ Cylinder with 3 unique lids, 1 Flower Crazy™ Square with 3 unique lids and a Flower Crazy™ recipe book. With Flower Crazy™ you can achieve all 12 beautiful designs and become an expert flower designer in minutes!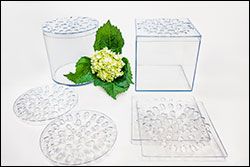 Developed by floral designer, flower design instructor & author of the books 'Flower Power', 'Design Star' and 'American in Paris' Michael Gaffney, the Flower Crazy™ system is centered around a foolproof formula that takes all the guesswork out of flower arranging.
Instructions on How to Buy:
1.) Click the "Add to Cart" button below.
2.) Click the "Proceed To Checkout" button to complete your order.
All Flower Crazy™ sales are final.